Ticket verlopen! De ticketlink die je volgde is helaas niet meer geldig. Waarschijnlijk is het festival al geweest.

Op deze pagina vind je meer informatie over Graspop Metal Meeting 2018. Je kan ook de zoekfunctie gebruiken om wel de juiste ticketlink te vinden.
Graspop Metal Meeting 2018
Dessel, België
Het grootste metalfestival van België dat elk jaar in Dessel wordt gehouden. Drie dagen lang worden de beste rock- en metalbands verdeeld over vier verschillende podia.

De affiche is meer dan 100 bands sterk en is altijd een mix van het beste uit de hedendaagse nationale en internationale rock- en metalscene.

Op de Graspop Metal Meeting campging kamperen meer dan 30.000 festivalgangers.
Bevestigde artiesten





































Wolves In The Throne Room



































Tyler Bryant & The Shakedown























































































































Tyler Bryant & The Shakedown






Wolves In The Throne Room

Graspop Metal Meeting FESTIVAL APP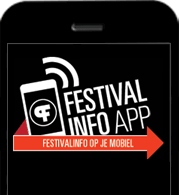 Graspop Metal Meeting 2018 wordt ondersteund in de Festivalinfo app.

Blokkenschema - Plattegrond - Het allerlaatste nieuws - Informatie over alle Graspop Metal Meeting artiesten en meer!

Check onze Festivalinfo app hier!
REISINFORMATIE
Dessel, Stenehei
Het festivalpark ligt langs de Kastelsedijk in Dessel (B).

Dessel ligt ongeveer op 60km van Antwerpen, 110km van Brussel, 35km van Eindhoven (NL), 170km van Amsterdam (NL), 150km van Düsseldorf (DE).

Wie met de auto naar het festival afreist en zeker niet verkeerd wil rijden, zet best volgend adres in de GPS: Stenehei - 2480 Dessel - België.

Wie met de trein komt, reist tot in Mol en wordt vanaf het station met de pendelbussen van De Lijn naar het festival vervoerd.

Festivalgangers met de fiets hebben doorgang tot aan de ingang van het festival. Recht tegenover de ingang van het festivalterrein is er een bewaakte fietsenstalling.
WEERSVERWACHTING Graspop Metal Meeting 2018

Min: 9.8 ℃
Max: 20.4 ℃
Neerslagkans: 10%
Neerslag: 0 mm
Windrichting: N
Windkracht: 3
Graspop Metal Meeting 2018 artiesten op de podia
Graspop Metal Meeting 2018 artiesten op de podia
Graspop Metal Meeting 2018 SPOTIFY PLAYLIST
Graspop Metal Meeting NIEUWS
LEDEN DIE HIER NAAR TOE GAAN
LEDEN DIE HIER NAAR TOE WILLEN