Pukkelpop 2017
Hasselt, België
Pukkelpop begon in 1985. En het alternatieve muziekevenement van België wordt nu ieder jaar gehouden aan het eind van de zomervakantie. Op Pukkelpop staan acht podia: Main Stage, Marquee, Dance Hall, Boiler room, The Shelter, Club, Chateau en de Wablief-tent. Tegenover de festivalweide is er een gratis camping voor 40 000 personen beschikbaar.

KIES TICKET
Pukkelpop 2017 combiticket
€ 199,00
Pukkelpop 2017 woensdag
€ 99,00
Pukkelpop 2017 donderdag
€ 99,00
Pukkelpop 2017 vrijdag
€ 99,00
Pukkelpop 2017 zaterdag
€ 99,00
Pukkelpop FESTIVAL APP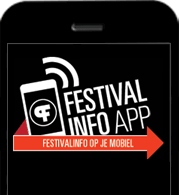 Pukkelpop 2017 werd ondersteund in de Festivalinfo app.

Blokkenschema - Plattegrond - Het allerlaatste nieuws - Informatie over alle Pukkelpop artiesten en meer!

Check onze Festivalinfo app hier!
REISINFORMATIE
Hasselt is te bereiken met de trein tot Hasselt station of Kiewit station. Kiewit station ligt op loopafstand
van het festivalterrein (500 m).

> Met de bus vanuit België: inlichtingen op de voorverkooppunten en in de plaatselijke jeugdhuizen.
> Met de bus vanuit Nederland: Busreizen en concertarrangementen vanuit Nederland (men boekt dan een hotel voor de festivalganger in de buurt etc. ) kunnen via www.festivaltravel.nl.
Het busvervoer in Hasselt is gratis.

Snelweg E313 Antwerpen-Luik:
> vanuit Luik: afrit 29 Hasselt-oost
> vanuit Antwerpen: op de verkeerswisselaar (Lummen) richting Aken
Snelweg A2 Leuven-Aken: afrit 29 Zonhoven-Hasselt-Houthalen-Helchteren

Vanuit Nederland
> snelweg Maastricht-Stein-snelweg A2 Genk-Leuven, afrit 29 Zonhoven-Hasselt / Houthalen-Helchteren
> autoweg Eindhoven-Valkenswaard-Hechtel-Hasselt

Voor de fietsers leiden speciale wegwijzers naar een gratis bewaakte parkeerplaats vlakbij het terrein.
ZO WAS HET WEER OP Pukkelpop 2017

Min: 13,1 ℃
Max: 23,2 ℃

Min: 14,9 ℃
Max: 20,6 ℃
Min: 12,9 ℃
Max: 19,5 ℃
Pukkelpop 2017 artiesten op de podia
Pukkelpop 2017 artiesten op de podia
Pukkelpop 2017 VERSLAG
Naast de ingang van het terrein staat een enorme ronddraaiende uitkijktoren. Welcome home! begroet de mast ons van grote afstand. De line-up voor de 2017 editie van Pukkelpop ziet er wat minder spannend uit dan we gewend zijn. Waar het festival zich altijd wist te onderscheiden met net iets grotere namen dan....
Naar het complete Pukkelpop 2017 verslag
LEDEN DIE HIER NAAR TOE ZIJN GEWEEST
LEDEN DIE HIER NAAR TOE WILDEN